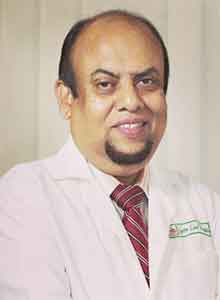 Gastroenterology, Liver, Medicine Specialist

Speciality : Liver, Gastroenterology and Medicine

Education : MBBS, PhD-Liver Med (Sydney) DSM (Vienna)

Work Days: Saturday, Sunday, Monday, Tuesday, Wednesday, Thursday
Prof. Dr. Mahbub H Khan is a Liver, Gastroenterology and Medicine Specialist in Bangladesh. Prof. Mahbub H Khan obtained MBBS Degree from the University of Dhaka in 1978. He secured 1st position in the third professional examination among the students of Dhaka, Sir Salimullah, Mymensing and Sher-E-Bangla Medical colleges of the Dhaka University. He was awarded Leo Gold Medal for his achievement.
Prof. Dr. Mahbub H Khan Chamber & Appointment:
Appointment For Dhaka Chamber:
Medinova Medical Services Ltd.
Address: House # 71/A, Road # 5/A,Dhanmondi R/A, Dhaka – 1209, Bangladesh. | Opposite to University of Liberal Arts Satmosjid Road

Visiting Hours: 10:00 AM –12:30 PM And 5:00 PM – 9:00 PM | Friday Closed.

Contact Info: Mobile Number: 01911356298, 01747317126 01739093198, 01711854838
Appointment For Narayanganj Chamber:
Medinova Medical Services Ltd.
Address: Jakir Super Market,145 BB Road, Chashara, Narayanganj.

Visiting Hours: 19:00 AM To 3:00 PM | Only Friday

Contact Info: Mobile Number: 01913119989, 01842119989, 01778437889

Telephone Number: 7646415, 7641965, 7641985
After his internship, from 1980-83 he received FCPS training in medicine and Gastroenterology from the then PG (BSMMU) hospital. During this time he worked under supervision of two eminent Professors, Prof A K Azad Khan and Prof M N Alam. Afterward he moved to Vienna in 1984 and obtained his Diploma and fellowship in Gastroenterology and Hepatology from the University of Vienna under supervision of Professor Xavier Psendorfer of Vienna university hospital at Lainz, Vienna. Subsequent next 7 years he served as Senior Resident in Medicine and ICU at Buraydah Central Hospital, Al Gassim, Saudi Arabia. In 1994 he worked as visiting fellow in Gasatroenerology and Hepatology in Gold Coast, St Vincent, Royal Prince Alfred (Liver transplant unit) and the Westmead Medical College Hospitals of Queensland and Sydney.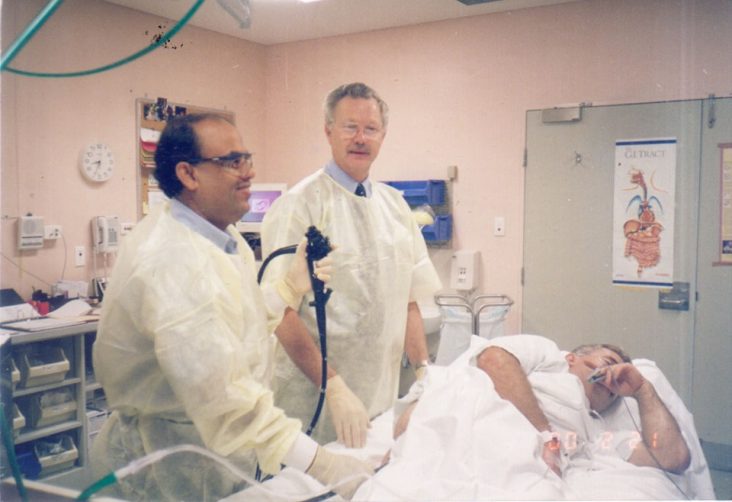 From 1995-1999 he was attached to Storr Liver Unit of the University of Sydney at Westmead Hospital. He worked for PhD thesis under supervision of world renowned liver specialist Professor Geoff Farrell, Professor of Liver Medicine at the University of Sydney. He submitted his thesis (alcohol and hepatitis C) in clinical liver medicine in 1999. His researched on hepatic fibrosis, long term clinical outcome, interferon treatment response and hepatitis C virus replication among 455 hepatitis C patients who used to drink alcohol. He awarded PhD degree in 2000. In year 1999 he got limited registration from New South Wales Medical Board. Thereafter, he joined as clinical and research fellow and started his service in the Department of Gastroenterology and hepatology at the University of Newcastle at John Hunter medical college Hospital under Hunter Area Health Service.
There he worked with another renowned Gastroenterologist and Liver specialist Prof Robert Batey. He individually used to run hepatitis B and hepatitis C clinic, interferon clinic, haemochromatosis clinic, general liver clinic and general gastroenterology clinic as a specialist on liver disease. He was a co-investigator of Australia and Newzealand multicenter clinical trial (effect of pegylated interferon and ribavirin in patients with hepatitis C) Called "Aus hep 8" .He individually used to manage and followed all the trial patients of hepatitis C of the hospital. International Association of the Studies of Liver had granted his membership because of his research and top quality publications.
His research papers were published in several highly reputable international medical Journals including "Hepatology", "American Journal of Gastroenterology". His breakthrough research findings "relationship between serum albumin level and risk of mortality and liver transplant in chronic hepatitis C patients" were cited in at least 11 text and guide books on liver diseases from Australia, UK, USA, France and Germany including Sheila Sherlock's Diseases of the Liver and Biliary tree (11th edition 2002). Several hundred references were also cited in many of the international journals on Liver and Gastroenterology.
Since 2001 he has worked as Assistant Professor, Associate Professor and Professor of Gastroenterology in several medical colleges of Bangladesh. Last 5 years he was assigned as Professor and Head of Gastrointestinal, Hepatic and Pancreatic diseases at the Bangladesh Institute of Health Sciences of the Diabetic Association of Bangladesh.
Since February 2015 he has been practicing as Senior Consultant of Liver disease and Gastroenterology at Gastro Liver Hospital, Dhaka, Bangladesh.