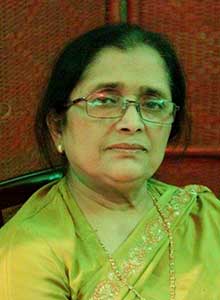 Prof. Dr. Rowshan Ara Begum
Obstetrics And Gynecology

Speciality: Obstetrics and Gynecology

Education : MBBS , FCPS (Gynae & Obs), FICS

Work Days: Saturday, Sunday, Monday, Tuesday, Wednesday, Thursday
Prof. Dr. Rowshan Ara Begum
Dr. Rowshan Ara Begum was the former departmental head of Holy Family Medical college and hospital. She is one of the best Obstetrics and Gynecology doctors in Dhaka, Bangladesh. Now she lookup her all patients in her private chamber.
Prof. Dr. Rowshan Ara Begum Chamber & Appointment:
Snehaloy | Dr. Rowshon Ara's Clinic
Address:
41/2 Shiddeshwari Kalimondir Road, Dhaka 1217
Gynaecology & Obstetrics
Department
(Menstrual, Uterus & Pregnancy Problems of Female)
Appointment / Serial Contact Number: For Serial:
029362326, 01948139378
For consultation: 01717 059310
Visiting Time:
4 pm-7 pm | Friday Closed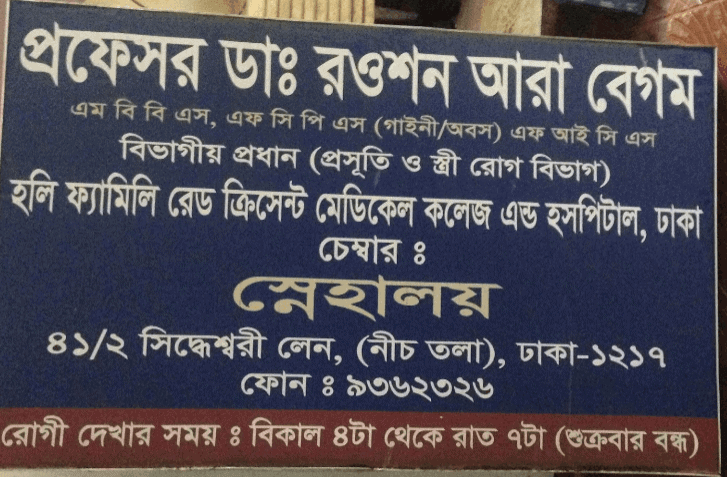 Early Life and Education of Dr.Rowshan Ara Begum –
Dr.Rowshan Ara Begum was born in a remote village in Manikganj, Dhaka Bangladesh. She was a teacher at Dhaka Medical College & Hospital from 1983-1992; She had worked at a private Medical College (Holy Family Red Crescent Medical College & Hospital) as a Professor and Departmental Head.
Throughout her life, it was her dream & passion to work for needy people, especially for the women & children of Manikganj. The majority of people of Manikganj are below the poverty line and health care coverage was inadequate. She worked in the remote area to improve the maternal and neonatal health of women and children since 1986. She has founded a tertiary care hospital in 2001 in the name of her parents late Sahera Hasan Memorial Hospital which provides free of cost health care to residents of the area; it also carries out surgical operations.
While it was built mainly for improving maternal and neonatal health at the community level, the hospital now also carries out general surgery and serves other patients due to the demand of the inhabitants. At the beginning of 2006, she has built a neonate care unit that includes an incubator and provides phototherapy. This action has tremendously improved neonatal and perinatal care in the area.
Previously, people in her area did not care about maternal and neonatal health due to the costs involved, but now due to the facilities provided by the hospital, they have developed awareness in the matter.
She has also built a free clinic in Dhaka for freedom fighters (who gave their lives in the liberation war for Bangladesh), garments workers (who work for very low wages), and primary school teachers; it has been operating since 2006.
A surgical team has also been formed with the intent to provide free operations for these classes of people.
The government has given permission to open Midwifery courses in 2014. In 2016, Ist Batch of Midwifery has started their journey and it has become one of the best Private Midwifery Centers now where students are getting practical training from our Sahera Hasan Memorial Hospital. Through these initiatives, she is working at the community level in both rural and urban areas. She is also an active member of OGSB since 1979, she was the editor of the Journal of OGSB three times.
Now she is the past President of OGSB.
Young Gynecological Award in 1991 in the FIGO World Congress, Singapore.
Amortya Sen Gold Medal in 2007 for her work at the community level for women's health.
Gold Medal from Nari Kontho Foundation in 2004 for works for women's health at rural level.
Gold Medal from Jubo Kalyan Somity in 2009 for works for women's health at rural level.
Independence Day award from A1 Telemedia in 2009.
Award from Shishu Forum for work in the rural areas for maternal and neonatal health.
"FIGO Awards in Recognition Women Obstetricians/Gynaecologists
"FIGO Awards in Recognition of Women Obstetricians/Gynaecologists" by FIGO (International Federation of Gynaecology & Obstetrics) for 2009, for her outstanding scientific contribution to Obstetrics & Gynae Services in the Hospital & Community Service for poor/rural people, women & children. She has received the award in South Africa in October 2009 during the XIX FIGO conference.
The career of Dr.Rowshan Ara Begum
President OGSB (2014-2016)
Past Secretary OGSB
Councilor, BMDC
Country Representative, AOCOG
Chairman, Education Committee, SAFOM
Chairperson, Sahera Hasan Memorial Hospital & Midwifery Institute
Vice-President at Fertility and Sterility Society of Bangladesh (at present).
Vice-President at Bangladesh Menopause Society (at present).
Past Joint secretary for two times OGSB.
Vice-President Mohila Parishad.
Vice-President of Gynae Endoscopy Society of Bangladesh
Vice-President Gynae Oncology Society of Bangladesh (GOSB)
Past Editor of Journal of OGSB.
Executive Members (SAFOG-South Asia Federation of Obs. & Gynae)
Chairman Sexual Medicine (Asia Ocean Federation of Gynae & Obs. (AOFOG)
Focal Point, Mentorship Program for Maternal & Neonatal Health, (UNFPA,GOV. & OGSB)
Member, National Advisory Technical Committee COVID-19